McClintock Urges Senate To Confirm Kavanaugh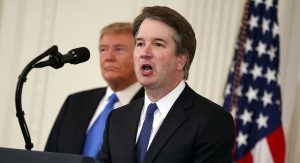 Brett Kavanaugh

View Photos
Washington, DC — Congressman Tom McClintock is asking Senators Diane Feinstein and Kamala Harris to vote in favor of confirming Brett Kavanaugh to the US Supreme Court.
The Mother Lode's Republican representative released a statement yesterday shortly after Senate minority Leader Chuck Shumer, and some other Democrats, argued before a judiciary committee hearing  that the confirmation process should be put on hold indefinitely because they believe Kavanaugh could soon be a justice in a case involving President Trump, who nominated him.
Speaking in favor of Kavanaugh, Mclintock says, "His educational and professional experience are exemplary; his long and sterling service to the nation is hailed by Americans from all walks of life. As one who has always emphasized the importance of the Constitution in American life, I find the best reason to support him are his own words: "The judge's job is to interpret the law, not to make the law or make policy. So read the words of the statute as written. Read the text of the Constitution as written, mindful of history and tradition. Don't make up new constitutional rights that are not in the text of the Constitution. Don't shy away from enforcing constitutional rights that are in the text of the Constitution. I hope that Senators Harris and Feinstein will put partisanship aside and support the President's indisputably qualified nominee."
A Senate hearing to confirm Cavanaugh is expected to happen on September 4.