Tuolumne County Releases Proposed General Plan Update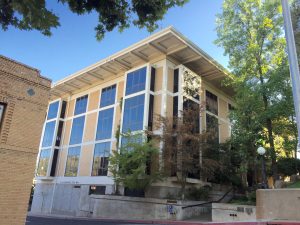 Tuolumne County Government Building

View Photos
Sonora, CA — It has been years in the making….Tuolumne County formally released a proposed General Plan update today.
Next week a correlating Environmental Impact Report will be released, and that document will go through a 45 day comment period. The General Plan serves as a roadmap and constitution for growth and development.
At today's meeting District Two Tuolumne County Supervisor Randy Hanvelt noted, "This is major thing. We have been working with an out-of-date and unworkable document for quite some time."
The General Plan Update, and EIR, will go to the planning commission and later back to the supervisors for final approval. The goal is to have it finalized by the end of the year.
You can read the various sections of the plan by clicking here. A series of town hall meetings on the General Plan have been scheduled for the coming weeks. You can go to the Jamestown Community Hall on August 28, the Groveland Community Hall on August 30, Columbia Elementary School on September 10 or the Tuolumne Memorial Hall on September 12. The meetings at those locations will run from 6-8pm. It is a chance to hear an overview about the plan, and ask any questions.