Construction on Highways 108, 120, 49 And 4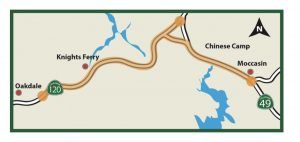 Caltrans repaving project map

View Photos
Caltrans crews continue to work on Mother Lode highways this week.
Highway 49 from just outside of Sonora to the Stevenot Bridge over New Melones at the County line is going to have crews repairing the pavement causing 10 minute delays. The one-way traffic control will begin Sunday night at 8PM and end at 6AM. On HWY 49 from Parrotts Ferry Road to Columbia Way be aware of right shoulder work and slow for the cone zone.
Pavement work on 108 continues begining Sunday night and continuing day and night through Friday afternoon from the Stanislaus/Tuolumne county line to the Yosemite Junction and to the Moccasin Creek Bridge thru Chinese Camp as in the photo.
On weekdays, pavement work on HWY 108 from 6AM until 6PM between Lyons Dam and in the Long Barn Road area will cause 10 minute delays. From Pinecrest Lake to 1.5 miles west of Eagle Meadow Road traffic will be restricted for tree work. Highway 108 remains closed due to the Donnell Fire for the 22 miles between Eagle Meadows to the Tuolumne/Mono County Line.
Calaveras Projects
Monday through Friday Highway 4 will be limited to one lane from Allen Lane to Williams Street in Murphys for utility work causing 10 minute delays between 6:30AM to 5PM. Traffic will also be limited to one lane on Hwy 4 from Upper Moran Road to Big Trees Park drainage work continues with 10 minute delays between 6AM to 6PM.
Road striping of HWY 49 from Angels Camp at the Calaveras Fairgrounds to Vista Point may cause 10 minute delays Monday thru Thursday between 8AM and 4:30PM.
A $3 million paving project on Highway 49 from San Andreas at HWY 12 to the Calaveras/Amador county line awarded to George Reed, Inc., is limited to overnights, beginning Sunday, from 8PM until 6AM Expect 10 minute delays along this stretch at night into October.
On Highway 26, work zones may generate up to ten-minute waits all week. Drainage work and utility work from Hogan Dam Road to Nove Way and from HWY 49 in the Mokelumne Hill area to a half-mile west of Andres Lane will impact traffic as well.