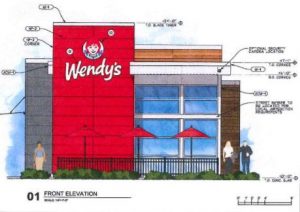 New Wendy's proposed building design

View Photos
Sonora, CA — An application has been submitted to build a Wendy's fast-food restaurant kitty-corner to rival McDonald's on Mono Way.
Clarke Broadcasting has learned that Clovis businessman Sukniit Sangha is planning to build the eatery on the current 1.2 acre vacant lot where vehicles are put up for sale on the northeast corner of the intersection of Mono Way and Fir Drive. The property is zoned C1, which is general commercial allowing for the restaurant.
County Community Resources Agency Director David Gonzalves reveals that the county recently sent out advisory notices to adjoining property owners and others in the area. He shares, "We've chosen, because we've had some folks voicing their concerns about the site, that we're going to send this to the planning commission, probably late fall, for them to hear the conditions of the allowed use there. That's site conditions; what the color looks like; how its laid out on the site; just stuff like that." He continues, "The commission can hear that and the public has a chance to voice their input and hopefully make the project more pleasing to folks."
Drawings in the image box detail the design of the restaurant, which is still in the preliminary stages. It includes constructing a 2,568 square foot building, with a drive-thru, outdoor patio, on-site bicycle racks and 28 parking spaces. The dining room would seat 56. There would be an entrance directly off Mono Way and another on an access road off Fir Drive.
Gonzalves adds the fast-food facility would create around ten jobs.