Extensive Post Storm Highway Restoration Project Finally Complete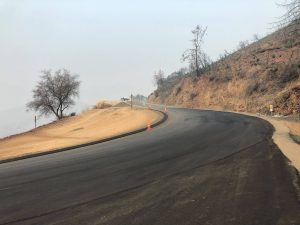 Highway 49 between Coulterville and Bear Valley post-storm restoration complete Aug 3 2018

View Photos
Sonora, CA – Great news for Highway 49 travelers between Coulterville and Bear Valley forced into a nearly hour-long detour since the road wipe out in late March — the need to take the long way around should be over before sundown.
Caltrans spokesperson Thomas Lawrence reports that repairs are finally complete along the 15-mile stretch devastated by the March 22 extreme storm event. In fact, today a contractor is laying the final striping. "We're glad to be opening up; our crews and construction partners have been working so hard. They not only rebuilt the road but they improved the road as well," Lawrence shares. He adds that, barring any equipment failures or other unforeseen issues, the striping should be down and dry in time to reopen that part of the highway by 6 p.m.
The storm damage caused a complete washout and severe erosion of both the highway and shoulders along that particular portion, which required crews to rebuild the road foundation and slopes from the ground up. They also replaced and upgraded the damaged drainage system, which included laying new metal pipes and then backfilling around them with concrete.
Another March 22 storm-damaged section of Highway 49 between Moccasin/Highway 120 and the Tuolumne/Mariposa county line reopened on May 23. Although Caltrans is still finalizing the total bill, Lawrence shares that the estimated project cost for the emergency repairs to Highway 49 was between $7.5 and $8 million. Storm-related repairs to Highway 132 near Coulterville just west of Highway 49 completed May 18.