High Speed Chase Ends After Car Hits Pole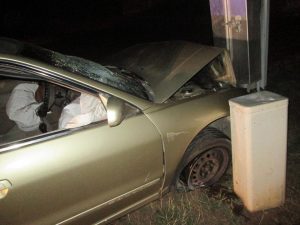 Crash Into Telephone Pole

View Photos
Tuolumne, CA — The Tuolumne County Sheriff's chased after a vehicle found in violation on Tuolumne Road.
Early yesterday morning a sheriff's deputy tried to pull over a Mitsubishi sedan driven by 47-year-old Walter Watson II after he sped by with a broken taillight.
The deputy chased Watson along Wards Ferry Road and into the Cascade Mobile Home Park. At that point, Watson lost control of the car and slammed into a telephone pole. Watson was not hurt in the crash. The sheriff's office reports that Watson told deputies that he knew he was speeding, panicked upon seeing the patrol car, and just wanted to get home.
He was charged with evading, driving without a license, reckless driving, speeding and having a brake light out.