Two Men Sought After Brutal Stabbing In Sonora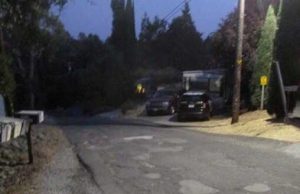 Scene where stabbing happened in Sonora

View Photos
Sonora, CA – A male victim was left on the ground bleeding after being stabbed repeatedly, now the Tuolumne County Sheriff's Office are asking for the public's help to solve the crime.
Deputies arrived on the scene at the Stoney Brook Mobile Home Park on Allison Way in Sonora around 8:30 p.m. on Thursday night to find a man with severe cuts to his head, face, and throat.
Witnesses told the deputies they saw two men in a dark, mid-size SUV pull up to victim's home and an argument ensued in the parking lot. It escalated into a physical attack when the driver of the vehicle used a broken beer bottle to stab the victim multiple times. The suspect then jumped into the SUV and took off.
Initially, the victim was taken via ambulance to Adventist Health Sonora. Due to the severity of his injuries, he was moved to a Central Valley hospital and is listed in critical condition.
Sheriff's officials give this description of the suspects; both are in their 20s to early 30s and the driver has very short or shaved hair and a goatee.
Anyone with information on this stabbing or on the suspects' identity is asked to please contact the sheriff's office at 209-533-5815.