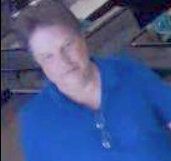 Man wanted for questioning for hit and run in Muprhys

View Photos
Murphys, CA — The CHP is hoping someone will recognize the man pictured in the image box so they can question him regarding a hit and run in Murphys.
Investigators say he is the driver involved in a collision in the parking lot of the Sierra Hills Market on Highway 4. Security video footage shows the suspect behind the wheel of a white Nissan Murano on Tuesday around 11:30 a.m. He backed into the rear of a 2016 Land Rover that was unoccupied. After the hitting the other vehicle, the video shows him taking off without attempting to notify the other driver or leave his name, number or any insurance information on the windshield. San Andreas Unit spokesperson Toby Butzler adds, "We're not sure if it's a local up in Murphys. We're kind of hoping it is and we're hoping someone will recognize the driver." He continues, "We do have very good camera footage of the driver and of the collision, it's just, unfortunately, we can't make out the license plate. We can kind of make out pieces of it, but we're not ready to release those letters yet." Butzler shares those details could happen at a later date if no one recognizes the suspect.
Anyone who may recognize the man or have witnessed the incident is asked to contact the CHP at (209) 754-3541 during normal business hours.