Two Sonora Residents Killed In Crash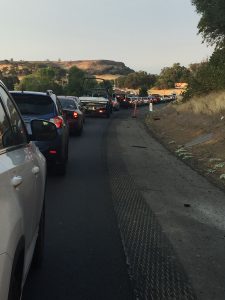 Traffic backed up on Highway 108/120 due to fatal crash

View Photos
Sonora, CA — A 91-year-old Sonora man and 86-year-old Sonora woman were killed in a crash last night on Highway 108/120 at the Yosemite Junction.
Their names have not yet been released, pending notification of family. The CHP reports that the 91-year-old man was driving a Toyota Camry eastbound on Highway 108 when he collided with a Ford Fiesta that turned left from Highway 120 onto Highway 108/120. Unable to avoid the car, the Sonora man driving the Toyota slammed into the Ford.
The Sonora man and woman in the Camry were not wearing seat belts. The man was transported to Modesto Memorial Medical Center, where he was later pronounced dead. The woman was pronounced dead at the scene. The driver of the Ford Fiesta, 42-year-old Julieta Pisani-McCarthy of Berkeley, had major injuries and was flown to Memorial Medical Center in Modesto. Three other people in the Ford, an adult and two children, had minor injuries, and were taken to Adventist Health Sonora. The CHP notes that drugs or alcohol were not a factor in the collision. Traffic in the area was blocked for around 40 minutes while evidence was collected from the scene. The crash occurred at 6:15pm.