Jamestown Woman Attacks Neighbor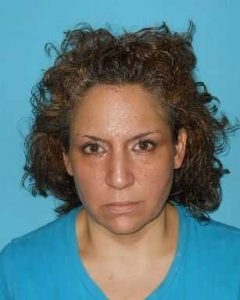 Zoe Pantane

View Photos
Jamestown, CA — A 65-year-old woman on an oxygen tank was attacked by her neighbor who accused her of stealing a backpack.
Tuolumne County Sheriff's deputies were called to the Woods Creek Mobile Home Park on Hwy 108 in Jamestown yesterday afternoon to find the victim with scratches on her arms. During questioning, deputies discovered that 40-year-old Zoe Pantane had forced her way into the victim's home, damaging the door. Sgt. Andrea Benson states, "She [Pantane] punched the 65-year-old woman who is on oxygen several times in the head and arms and then pulled her outside onto the front porch by her hair and continued to hit her. The victim suffered scratches to her arms and complained of pain to her head. Patane accused her neighbor of stealing her backpack, which the victim denied."
Deputies checked the home, but did not find the backpack.  Patane was arrested for elder abuse and burglary for entering the dwelling with intent to commit a felony, explains Benson.