11 Calaveras Marijuana Sites Criminally Investigated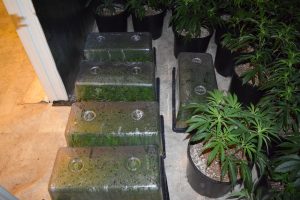 Indoor marijuana grow in Valley Springs

View Photos
San Andreas, CA — Since July 9 the Calaveras County Sheriff's Office, along with  other agencies, began serving a series of criminal search warrants throughout Calaveras County. The search warrants were served over a month's time in an operation called "Green Wave" to limit environmental crimes directly associated with marijuana cultivation.
In total 11 sites were reviewed and the operation removed 26,597 marijuana plants as well as 1,832.22 lbs. of processed marijuana. In addition 5.31 lbs. of concentrated marijuana, 9 grams Methamphetamine, 11 firearms, and $3,580 in cash was removed as evidence. The operation resulted in a total of seven arrests and citations with additional charges for environmental damage for a total of 14 cases referred to the Calaveras County District Attorney's office for prosecution. Warrants to search the specific properties in the areas listed below were identified by aerial surveillance and other techniques according to Calaveras Sheriff Rick DiBasilio.
The California National Guard Counter Drug Task Force and other allied agencies worked together to investigate the criminal acts and environmental damage. A significant number of environmental damage to the watersheds and waterways was documented according to Sheriff DiBasilio.
The operation report notes environmental damage in the mountains and foothills of Calaveras County has significant impacts on the Central Valley and San Francisco Bay Area. Specifically, the Mokelumne River Watershed leads directly into East Bay Municipal Utilities District (EBMUD) reservoirs which are the water source for millions of California residents. The area of this operation also included the Stanislaus River drainage system which affects millions of residents and agricultural water in the Central Valley and beyond.
Search Warrant Locations and findings:
600 block of Ealey Rd, Glencoe

 736 Marijuana Plants, 100.6 lbs. Processed Marijuana, 198 lbs. of Cannabis Edibles, & 1 Firearm

6900 and 7100 block of Cedar Springs Rd, Mountain Ranch

16,744 Marijuana Plants & 10 lbs. Processed Marijuana

5100 block of Hawver Rd, Mokelumne Hill­

1206 Marijuana Plants, 4 lbs. Processed Marijuana, $3,580 in Cash, 8 Firearms, and 2 Citations were issued

6000 block of Hawver Rd, Mokelumne Hill

Butane Honey Oil Lab, 197 Marijuana Plants, 2 Citations were issued

2200 block of Gold Strike Rd, San Andreas

Butane Honey Oil Lab, 2569 Marijuana Plants, 1718 lbs. Processed Marijuana, 5.31 lbs. of Concentrated Marijuana, & 9 Grams of Methamphetamine

7300 block Schaad Rd, Wilseyville

388 Marijuana Plants, 1 Arrest, & 2 Firearms

1300 block of Higdon Rd, West Point
10700 block of Walker Trail Rd, Copperopolis

1933 Marijuana Plants, 1 Citation issued

9800 block of Smokey Ridge Rd, Sheep Ranch

Butane Honey Oil Lab, 3lbs. Processed Marijuana

6300 block of Mountain Ranch Rd, Mountain Ranch

164 Marijuana Plants, 212.99 lbs. Processed Marijuana, 1 Citation issued

13500 block of Jesus Maria Rd, Mountain Ranch

1 Marijuana Plant, 5 lbs. Processed Marijuana, Site was abandoned on entry