Boating Accident On Don Pedro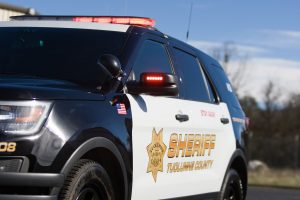 Tuolumne County Sheriff's Office Vehicle

View Photos
Lake Don Pedro, CA — Residents in the area of Chinese Camp may have been startled by sirens, a helicopter and plenty of emergency vehicles in the area on Independence Day.
Clarke Broadcasting received several calls and emails regarding the noisy scene and got the details from Tuolumne County Sheriff's officials. They report a recue was made at Lake Don Pedro after a man fell off an inner tube that was being pulled behind a boat. A medic-flight landed at the Tuolumne County Fire Department Station 61 on Highway 120 near Montezuma Road/Highway 49 in Chinese Camp to fly the victim to a Modesto hospital. He was treated for broken ribs.
Sheriff's officials have not released the name of the man and no citations were issued to the driver of the boat.