Projectile Device Led To Arrest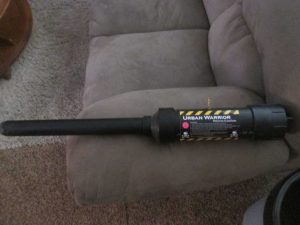 High powered Urban Warrior potato cannon seized

View Photos
Tuolumne, CA – A search of a Tuolumne man's home uncovered a dangerous device that can launch items.
Tuolumne County Sheriff's Deputies assisted the Probation High Risk Supervision Team in conducting a probation search on 55-year-old Kenneth Cox last week. Inside his home on the 19000 block of Mi Wu Street, off Tuolumne Road North, across from the Black Oak Casino Resort they found a potato launcher. Cox is a convicted felon and is not allowed to own or have firearms and ammunition. Sheriff's officials say the high powered "Urban Warrior" potato cannon, along with a bag of potatoes and a can of Static Guard aerosol spray used as a propellant in the launcher, were discovered on his front porch. The device is considered a firearm, according to sheriff's officials.
In addition, one 9mm round of ammunition was found inside of his residence.  Cox was booked into the Tuolumne County Jail for the probation violations of a felon owning or possessing firearms and ammunition. He bail was set at $10,000.