Tuolumne Celebrating Its Heritage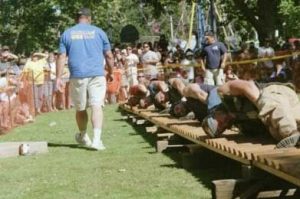 Tuolumne Lumber Jubilee

View Photos
Tuolumne, CA — The four-day Tuolumne Lumber Jubilee kicks off this evening.
2018 marks the 69th year of the community celebration. The carnival events will begin at 5pm today and the queen speeches and obstacle course will start at 5:30pm. Beginning at seven o'clock will be a concert featuring Electric Bob and Short Circuit.
Festivities will start earlier in the day on Friday, with a 1pm axe throwing fundraiser, carnival rides beginning at 3pm, the queen coronation at 6pm and a concert by Weekend at Jimmy's at 7pm.
On Saturday the popular parade will begin at 10am. It always draws a big crowd downtown. One of the Lumber Jubilee's main organizers, Aaron Rasmussen, reports that around 40 entries are signed up this year. Unlike the past few years when the parade started at Cherry Blvd and headed towards downtown, this year it will begin at the post office and then head around the park. Staging will be at the St. Joseph's Church.
Carnival rides and kids games will begin at 11am on Saturday. At 11am will also be specifically women's events, 12:30pm will be logging events, at 3pm there is arm wrestling and 4pm is the junior tug of war. Then at 7pm will be a concert by Stomp Box.
On Sunday there will be a 9am church service, carnival rides at 11am, logging events at 12pm and the final tug of war at 4pm.
Other various demonstrations and events will take place throughout the weekend. It is a very family friendly event. Food and other vendors will also be on site.