Blizzards Coming To Sonora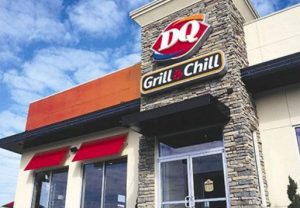 Example of Dairy Queen restaurant shown on companies website

View Photos
Sonora, CA –The vacant Sonora Motors site on Pesce Way in Sonora will house a Dairy Queen Grill and Chill fast food restaurant come next year, according to the Tuolumne County Economic Development Authority, which will bring investment and jobs to the area.
The nearly $2-million project is a long time coming for Andy Singh and his wife, Navneet Bhatia, owners of the ARCO AMPM Mart gas station next door, which Singh insists will not compete with each other. "This is my main dream. Both can complement each other. People can stop when their coming from Angels Camp. It's going to be a stop where people can get gas over here. Can shop in the AMPM for anything, coffee or snacks or they can go for some food at Dairy Queen. We are also going to have a patio outside and very small picnic area for the kids."
The restaurant will be able to seat 70 people and there will be a drive-thru. While Singh has no drawings of what the building will look like, he indicates that it will complement the historic feel and fit in with downtown Sonora.  He says they plan to hire 14 employees and three full-time managers. The original proposal for the site was to have a food court, as reported here. Singh says DQ fits that bill. "It's hard to bring three different kinds of food; of course we want national franchise. I don't want something that is not popular and people don't like," shares Singh. "The three concepts under one roof, with one franchise of Dairy Queen, that's a perfect fit for this location and it's a unique menu concept. You're going to find three different things in one Dairy Queen." Those things include smoothies (Orange Julius), ice cream, burgers and fries, according to Singh.
Construction is slated to begin at the end of this year with a grand opening date anticipated in the spring of next year, confirms Singh. He says he appreciates the public's support that the project has received.