Pot Bust Signals Busy Summer For Calaveras Sheriff's Department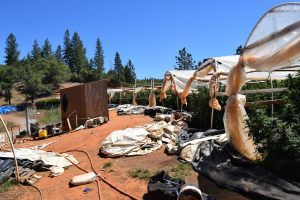 Pot bust on Mason Road in Railroad Flat

View Photos
Railroad Flat, CA – With the week old commercial cannabis cultivation ban in effect in Calaveras County, deputies raided a formerly registered commercial grow and seized more than 1,300 marijuana plants – signaling a busy summer for law enforcement.
Wednesday's search by the Calaveras County Sheriff's Office Marijuana Enforcement Team took place in the 2000 block of Mason Road in Railroad Flat. Sheriff Rick DiBasilio notes that the site was previously registered as a commercial medical cannabis cultivation site, but it is now out of compliance. He acknowledges with the ban, "We're going to be busy, let's put it that way."
At the bust, deputies seized 1,309 marijuana plants and 171.56 pounds of processed marijuana. Realizing that the latter may create a dilemma for his department, Sheriff DiBasilio explains, "That's kind of a gray area because it's still considered cultivation, but in my eyes, they aren't growing anymore and the ordinance was designed for growing commercially. So, if they're drying it and processing it, we're more looking for the grows that are in the ground growing."
While many cultivators have complied with the ban, but still too many former registered grows to check in the county, DiBasilio revealed this strategy, "We're doing like we always have done in the past. It's kind of like going to the emergency room, whoever is worse gets the most attention. So, the people that are causing the most problems or have the biggest grows or the biggest environmental issues that are going on, those are the ones we're going to visit first." He adds, "Our aerial imagery shows if they are growing or not. So, if it shows they have not started growing again, there's no need for us wasting our time there, we'll go after the ones that we know are there."
At this latest site, investigators found evidence of environmental damage. Additionally, three people were issued citations. 24-year-old Steven Koba from Railroad Flat faces a felony citation for illegal cannabis cultivation, possession for sale, and operating or maintaining any place for the purpose of unlawfully selling or giving away illegal controlled substances.
58-year-old Timothy Koba from San Antonio, Texas and 19-year-old
Markus Schoellen from Railroad Flat, were also cited for illegal cannabis cultivation.