Jeep Stolen Over Five Years Ago Recovered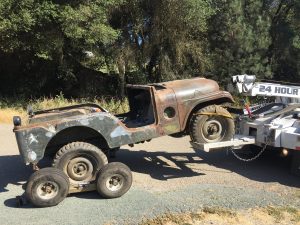 Stolen 1953 Willys Jeep recovered

View Photos
San Andreas, CA – The theft of a 1953 Willys Jeep was discovered, when to a new owner's surprise, he went to register the vehicle and found out it was hot.
The CHP San Andreas Unit reports that the Jeep was originally stolen in April of 2013. The current owner had traded for the vehicle four years ago. He acquired it without getting any paperwork or having an inspection done on the vehicle. The CHP was notified to seize the Jeep and has since returned it to the actual owner. The person who had the Jeep is not suspected in its theft, according to CHP officials, who add that the investigation remains ongoing.
This incident has prompted the CHP to remind the public of the old adage "buyer beware." They warn that purchasing a vehicle without paperwork is risky and advise the public if there is paperwork always compare it to the VIN number on a vehicle. Additionally, when purchasing a vehicle that may be suspect ask the seller to schedule an appointment with a law enforcement officer to have the VIN checked since that can only be done in person by the officer.