Tuolumne County Election's Office Continues Processing Ballots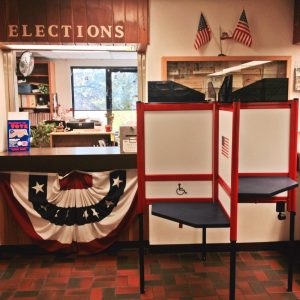 Tuolomne County Election Office

View Photos
Sonora, CA — Thousands of vote-by-mail ballots that were either dropped off at polling sites, or arrived via the mail on Election Day or later, will be tabulated either late today or early tomorrow.
That's when we'll receive the next numbers, according to Tuolumne County Clerk and Auditor Controller Debi Bautista. She notes that around 4,000 such ballots have already been processed by her staff, with more to go. She anticipates putting them all through the machine at once, either late today or early tomorrow. The timing partially depends on how many ballots continue to arrive by mail. After the remaining vote-by-mail ballots are tabulated, Bautista estimates that 98-perecent of the votes will be counted. There are also 536 provisional ballots that will need to be validated next week. Those are people that voted at the polls but didn't appear on the voter rolls there, because it might not have been their precinct area, or they recently moved to a different district, etc.
Click here for the latest local primary election results.