A Backpack And Its Belongings Put Man In Handcuffs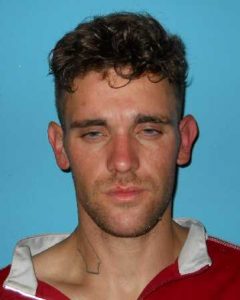 Zakary Howerton

View Photos
Sonora, CA – While being questioned by a Tuolumne County Sheriff's Sergeant for a felony theft and false ID warrant for his arrest, a transient man took off running.
The Sergeant had recognized 27-year-old Zakary Howerton, who is also on parole, walking on Mono Way near the Sanguinetti Road turnoff in Sonora late Friday evening. During the conversation, Howerton suddenly threw his black backpack at the Sergeant and started running down the hill towards Hospital Road while unloading items from his pockets. The Sergeant gave chase and caught him about a quarter mile down the road when Howerton fell to the ground. A brief struggle ensued, according to sheriff's officials, but the Sergeant was able to overpower and cuff him.
A search of the backpack uncovered a gas siphoning pump and burglary tools. Howerton now faces new charges of resisting arrest and possession of burglary tools along with his previous parole hold and felony warrant.