Tuolumne County Leaders See "Cultural Change" In Stanislaus National Forest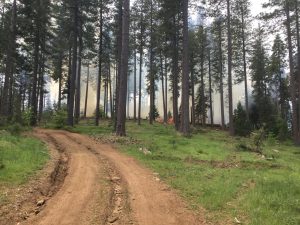 Stanislaus National Forest prescribed burn

View Photos
Sonora, CA — The Tuolumne County Supervisors discussed some of the details regarding the new Master Stewardship Agreement with the Stanislaus National Forest.
We reported this past January that it is anticipated the pact will increase the speed and number of projects over the next decade aimed at improving the health of the forest. This morning the supervisors approved a first "Supplemental Projects Agreement." An early effort will be the removal of five million board feet of commercial timber and 49,000 tons of biomass.
It was noted at today's meeting that the Master Stewardship Agreement was first conceptualized around seven years ago. The Yosemite Stanislaus Solutions Group, which is comprised of entities representing things like government, environment and business interests, has been actively at the forefront of the process.
District Two Supervisor Randy Hanvelt, who is been critical about the current health of the forest, praised the merits of the agreement, stating, "This, as I see it, is a cultural change in the US Forest Service and the Stanislaus National Forest. I give Jason Kuiken, our new Forest Supervisor, a lot of credit. He has been sticking his neck out, going forward, and changing the culture and the game. That's how were going to go forward, and that's how we're going to put our forest back to work for us and make it healthy and resilient, ultimately. We're going to help our economy, improve safety, improve our watershed and improve the environment. Everything is going to be a winner in this."
District Three Supervisor Evan Royce noted he was very skeptical when the idea of a Master Stewardship Agreement was first discussed years ago. "It really is remarkable, and it truly is a fundamental change in the way things are being done. To see incentives being aligned between industry and environmental communities is the core root of the success of this. You are giving people reason to work together."
Reflecting on the disagreements that different groups have had in the community over the past 30-40 years, District One Supervisor Sherri Brennan added, "We've come a long way folks."
Also related to the Master Stewardship Agreement, the supervisors voted today to have the Tuolumne River Trust manage the operations of it. The board also approved the submittal of a $14-million grant application to the state for climate investment funds that could be utilized to fund future projects. The grant could help remove over 124,000 tons of biomass across 12,550 acres.