A Surprise Find In Angels Camp's Utica Park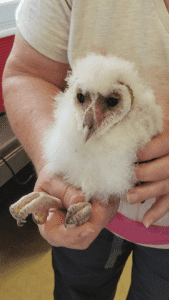 Owlet found in Utica Park in Angels Camp

View Photos
Angels Camp, CA – Imagine the surprise of one park goer after he found, not a lost dog or cat, but a baby owl on the ground.
The discovery happened around 3 p.m. Friday in Utica Park. Upon finding the bird, the person called Angels Camp police to get some help for the little guy, who can be viewed in pictures in the image box. Dealt with the unusual task of trying to capture the bird, the officer needed help and knew just were to turn – his wife, according to police.
Once on scene, she took control and retrieved the owlet and then took it to local wild animal rescue, "Mother Lode Wildlife Care" located in Tuolumne County. It is a non-profit, permitted through both the California and US Department of Fish and Wildlife, to relocate animals in need. Police note that organization volunteers have the required training to ensure that the owlet would receive the best care and chance of being released back into the appropriate natural habitat.
Anyone finding wildlife and needing assistance can contact the organization at 209-677-7249 between 8 a.m. and 8 p.m. seven days a week. They are also be emailed at mlwildcare@gmail.com or click here for their website. Of note, the group is currently seeking volunteers.