Jamba Juice On The Way: New Starbucks Taking Shape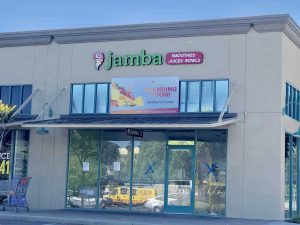 Sonora Jamba Juice

View Photos
Sonora, CA — A Jamba Juice is coming to the Sonora Crossroads Shopping Center.
The Livermore based Hundal Companies, a restaurant franchise group, has officially put up a sign announcing Jamba Juice's upcoming arrival at the former "It's Yo Good" frozen yogurt location. It is in the 1100 block of Sanguinetti Road. Hundal Companies operates Jamba Juice, Carl's Junior and Pieology Pizzerias across Northern California.  Jamba Juice, which specializes in frozen smoothies and fresh drinks, has locations around the world.
Also, the new Starbucks is taking form (see picture) at the former site of McDonald's in the Junction Shopping Center. Construction started in mid-march and is expected to be concluded in early July. Upon opening at the new location, the existing Starbucks in the Junction will close and make way for Strings Italian Café. The chain is based in Sacramento and has over 20 restaurants throughout Northern and Central California.