Chase Ends With Suspect Pepper Sprayed And A Tasered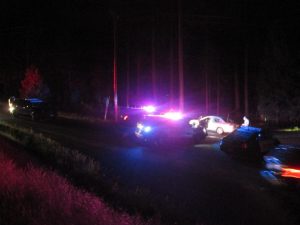 Arrest scene on Hess Avenue

View Photos
Twain Harte, CA – A pursuit that began in East Sonora came to a screeching halt in Twain Harte where deputies used pepper spray and a taser to subdue a suspect.
The chase was the result of a traffic stop on Highway 108 at the Hess Avenue exit for an unreadable license plate. When a Tuolumne County Sheriff's Deputy approached the vehicle the driver, 55-year-old Jacolene Barton of Sonora, refused to roll down the window and instead sped off down the highway. The deputy followed and called for back up.
The chase ended abruptly when Barton made a turn onto Grey Owl Court in Twain Harte, which happened to be a dead end road. After ignoring repeated demands to get out of the vehicle, Barton suddenly emerged and was handcuffed.  However, passenger, 37-year-old Brandon King, refused to budge. Deputies responded with a shot pepper spray into the car, which sent King running from the vehicle and swinging at deputies, according to sheriff's officials, who say that forced the use of a taser.  A search of the vehicle netted methamphetamine, drug paraphernalia and firecrackers.
Barton was booked into Tuolumne County Jail on a failure to appear warrant for possession of drug paraphernalia, driving with a suspended license for dui. She faces fresh charges of evading a peace officer, resisting or delaying arrest along with possession of drugs and fireworks. King was booked on two warrants for failing to appear on earlier drug charges. His new charges include having drug use items and resisting arrest.
Of note, this is not the first time King has resisted arrest and been tasered.  In December 2016, he got in a scuffle with deputies while allegedly trying to break into some vehicle in a local charity's parking lot, as reported here.