Calaveras Completes First Tree Mitigation Project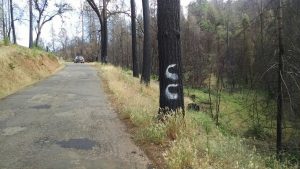 Calaveras County trees marked for removal

View Photos
Arnold, CA – Calaveras County has reached a bench mark as it has completed one of its three planned tree removal projects in the Arnold area to bring down over 500 trees.
The first plan was carried out in the Pinebrook Subdivision where 50 trees on over 30 residential properties were cut down as part of the county's tree mortality program. Trees will begin falling in the Blue Lake Springs and Fly in Acres Subdivisions on the Highway 4 – Ebbetts Pass corridor for the second hazardous tree removal project by next week. Its scope is much larger with over 300 trees on 161 parcels to be chopped down. This project will take several weeks to complete and could cause motorists delays along roadways in the area depending where work is in progress. The third project is still being coordinated and will involve the removal of over 160 trees in Blue Lake Springs east of Moran Road, Lilac Park, Fly in Acres and Grizzly Ridge Subdivisions. Crews are expected to start dropping timber starting in June.
County officials want to remind property owners in the area to return their Right of Entry Form immediately to be included in this free tree removal program. Further questions can be directed to the County Tree Mortality website by clicking here or calling Dr. Richard Harris at (707) 685-5508.