Footage Released Of Alleged Twain Harte Vehicle Burglars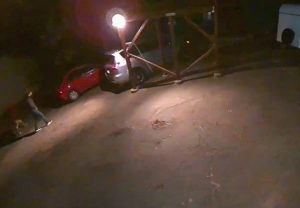 Twain Harte burglary suspects May 17 2018 surveillance detail

View Photos
Sonora, CA — Hoping locals might help identify two prowlers whose images were caught near vehicles broken into in Twain Harte, law enforcement officials are sharing footage.
According to Tuolumne County sheriff's officials, video surveillance caught in the early hours May 17 briefly show a pair of suspects as they tiptoe into a darkened parking area and subsequently trigger a floodlight. You can view the snippet by clicking here.
As we reported last week here, several unlocked vehicles were targeted along Golf Club and Mother Lode drives, which additionally triggered a warning from officials that citizens can help minimize exposure to crimes of opportunity by securing cars and trucks — and either removing or hiding valuables from plain sight.
Deputies have since recovered and returned to owners some of the property taken during the thefts, according to sheriff's officials, who still have two sets of keys and two pairs of glasses that have not been claimed.
Anyone missing these items or with possible information about the suspects in the surveillance recording should contact the Sheriff's Office at 209 533-5815.