Caltrans Shares Winter Storm Damage Repair Update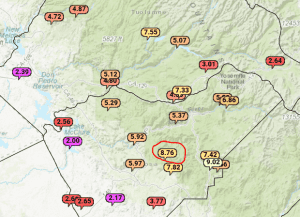 NWS Map of March 2018 Rainfall

View Photos
Sonora, CA — The first of three highway stretches under repair since the disastrous March 22 "atmospheric river" storm incident is complete as of this afternoon, according to Caltrans officials.
Caltrans spokesperson Warren Alford reports that Highway 132 near Coulterville just west of Highway 49 is scheduled to reopen around 4 p.m. "Initially we had hoped to have it open by 1 p.m. but some equipment issues have slowed us down," he explains.
Sharing more details, he continues, "The storm event that happened in March was pretty much unprecedented and the damage on 132 knocked out a wall of the road about 100 feet across and 75 feet deep that we had to completely rebuild…our crews have replaced a 12-foot high culvert that will carry water underneath the roadway."
Highway 49 Repairs Still In Progress
As for the Highway 49 repairs, Alford confides, "The crews are making great progress on the Moccasin section, which is the northern part from Moccasin to basically Coulterville, and we are expecting to get that open before Memorial Day Weekend as long as everything goes as planned and we do not have any equipment issues. The part that is to the south…going towards Bagby and Bear Valley has a lot more damage and we are hoping to get it open by the July Fourth holiday or mid-July."
Asked about repair costs for the extensive work, he says that totals are not yet available since it is being done under emergency contracts that allowed the agency to get contractors working as quickly as possible. "We won't have totals of the amount for the work at these locations until the work is completed," he maintains.
However, he adds, "I can say that the damage from the March storm event surpassed the total from the big storms last year -– a little surprising given how big last winter was -– the issue was that we got so much precipitation in such a short amount of time. The chart [in the image box] shows the three-day total from March 20 – March 22 provided by NWS Sacramento. As you can see, almost nine inches of rain fell during the three-day period at some locations!"