Injured Climber Rescued After Spending Night On El Capitain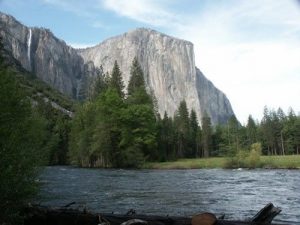 Yosemite - El Capitan

View Photos
Yosemite, CA — A world-renowned speed climber fell while climbing El Capitan yesterday afternoon sparking a rescue effort that lasted through the night and ended this morning when a helicopter landed to take him off the famous rock.
Yosemite spokesman Jamie Richards explains rescuers hauled Hans Florine to the summit of El Capitan that evening, but it was too late for a helicopter to get him out. She explains, "We're still looking into what happened, but he fell. Park rangers did go up and conduct a rescue and provide medical aid. Due to the time of day and the complexity of getting him out, they ended up camping on top of El Capitan. Park rangers stayed with him. Helicopter took him out for medical aid in the early morning."
Seeming in good spirits, Florine posted a selfie on Instagram, click here,  with the caption: "Well, there is a rescue going on, on El Capitan. And it's me. I think I broke my leg. Rescuers please be safe."
As reported here last year, two climbers broke Florine and another climber's record for ascending the Nose route of El Capitan in 2012.