Phoenix Lake Restoration Delayed By Permitting Process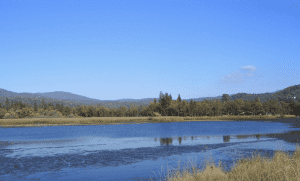 Phoenix Lake

View Photos
Sonora, CA — A $6-million plus restoration project at Phoenix Lake has hit a delay.
Initially, the Tuolumne Utilities District was hoping to award a contract this spring with construction beginning in the summer. TUD District Engineer Erik Johnson updates, "Currently we are still in the process of securing some of the permits that we are needing from the Regional Water Quality Control Board, Department of Fish and Wildlife, and the Army Corps of Engineers. We did get our CEQA document, our environmental document, approved, but the permit acquisition is the next step."
Johnson says the district is now hoping to award a contract and begin the Phoenix Lake restoration in the spring and summer of 2019, assuming everything goes as planned.
The project will involve removing 400,000 cubic yards of sediment from Phoenix Lake, which will provide access to approximately 170 acre-feet of additional water storage. In addition, construction of a sediment forebay will catch most of the future sediment transported to the lake via the Sullivan Creek watershed.