Tuolumne Man Spits On And Scuffles With Officer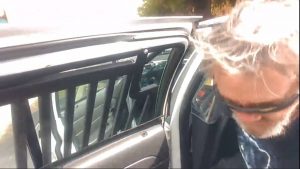 Robert C. Anson arrest

View Photos
Sonora, CA — Sonora Police reports that a Tuolumne man spit on and fought with an officer and that's not all — the suspect also damaged the interior of a patrol vehicle on the way to jail.
The officer responded to the 100 block of Hospital Road around 10 a.m. on Monday for a report of a man making threats and trespassing. As the officer pulled up to investigate, the suspect, 56-year-old Robert C. Anson, fled the scene. The pursuit led to the Washington Street Post Office where he resisted arrest. Anson physically fought with the officer, according to police. The altercation ended with both of them on the floor and Anson in handcuffs.
The officer suffered minor cuts, but Anson was not injured. He also spit on the officer and once in the patrol car began kicking the interior resulting in hundreds of dollars worth of damage, according to police.
Once at the Tuolumne County Jail Anson was booked for felony obstruction, vandalism, battery on a Peace Officer and for violating his probation. His bail was set at $20,000.