'Every 15 Minutes' Hits Home At Summerville High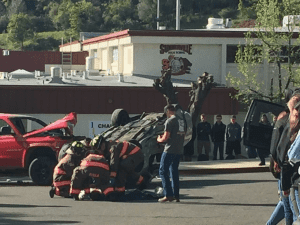 Every 15 Minutes Summerville High April 30 2018 Mock Accident Scene and Response

View Photos
Tuolumne, CA — As first responders converged in a central part of the Summerville High School campus, two smashed, overturned vehicles made for a grim drunk driving accident scene.
It was all part of a two-day "Every 15 Minutes" program that after months in planning, launched Monday morning, involving numerous agencies and organizers. Led by the CHP Sonora Unit, it was made possible in part through a $6,000 reimbursement grant from the Office of Traffic Safety.
As CHP spokesperson Officer Faustino Pulido explains, "Even though our target audience is these high school teens that are driving or soon to be driving, [the program] affects the whole community — and takes a whole community to put one of these events together — fire departments, an ambulance crew, a funeral home, hospital ER, law enforcement, and school staff and administrators."
Summerville Principal Diana Harland recounts that the students observing Monday's crash enactment were uncharacteristically quiet. "Ambulance personnel, highway patrol and fire services worked through it like it was an actual accident scene so it was very realistic and attention-grabbing," she shares. She adds that the program is staggered every two or so years so the students do not come to expect it and are not sure when it is going to happen. "It is important to the school district, especially with end of year senior activities and prom season coming up that our students just have it in mind the dangers of drinking and driving," she states.
Emotional Day Reflects Tragic Consequences
As Monday's drama played out for all to see, the student who played the drunk driver was taken away in a police car while the student mock victims were either loaded into hospital-bound ambulances or a hearse heading to a funeral home. Then, every 15 minutes for the rest of the school day a CHP officer, accompanied by a Grim Reaper figure, systematically visited classrooms. There, after reading an obituary for a pre-selected student whose  parents had already secretly given advance permission, the pair ushered him or her away to join a contingent of "the walking dead," representing drunk driving casualty statistics.
Monday night, all the student participants took part in an overnight retreat at Old Oak Ranch with team-building exercises and guest speakers. Pulido confides, "It is very emotional for them because the kids receive a letter prepared by their parents about their plans and aspirations for them as if they had passed away in a DUI accident. Then the students write a letter back apologizing to their parents for the choices they made. It sticks with the students as it pulls at those heart strings that much more."
On Tuesday the program wound up with sharing of the letters during a school assembly featuring mock headstones on display and an on-campus tribute to the mock victims. Besides being a way to bring the student body together after an emotional ordeal, organizers hope that the program's impact gets the teens thinking and dealing with drunk driving implications on a deep, emotional level that helps enable them to make their best choices.
Pulido points out that the original program, which began some years ago, was inspired by a statistic that Americans were getting injured or killed in drunk driving every 15 minutes. These days, he says, "The statistics are much better and of course still can be improved on — now it is more like every 57 minutes — so a 75 percent reduction." Locally, he believes the program makes a positive difference and hopes the CHP can continue helping bring it to all the Mother Lode high schools.