Exposed Ignition Wires Land A Jamestown Woman Behind Bars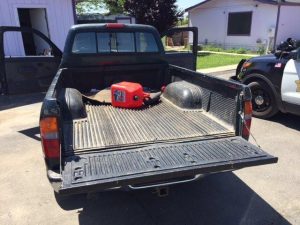 Truck stolen from Murphys

View Photos
Jamestown, CA – A surprise for Tuolumne County Sheriff's Deputies as a probation check revealed a woman had allegedly committed further crimes.
The sheriff's high risk supervision team was carrying out a probation search on 46-year-old Narrie Alfaro at her Hitchcock Court residence in Jamestown Thursday morning when they discovered evidence of a vehicle theft. A check inside a Toyota Tacoma truck parked in front of the home showed clear signs it had been hotwired as there was damage to the steering column and several wires were exposed. A records check revealed the pickup had been taken from Murphy's in Calaveras County.
Several of Alfaro's belongings and drug paraphernalia was found during a search of the truck. She was subsequently arrested for possessing a stolen vehicle and having drug paraphernalia.