Morse And Others Address Tuolumne County Democrats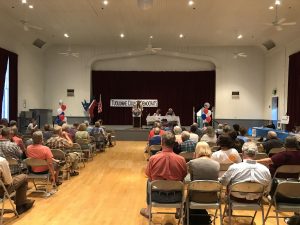 Democratic Central Committee Candidates' Event

View Photos
Sonora, CA — The Democrat who has received the state party's endorsement in the race against Republican Congressman Tom McClintock was a main draw at a Thursday evening candidates' forum hosted by the Tuolumne County Democratic Central Committee at the Sonora Opera Hall.
Speaking with Clarke Broadcasting, Jessica Morse explained her main message, saying, "I want us to start thinking locally about government and our elected leaders actually representing our  local community and local issues. We need real solutions to land management, fire prevention, water management and how to turn these challenges into economic opportunities for the community."
When asked specifically about how to prevent large scale fires, she responded, "We need significant investment. It cost $72-million to contain the Butte Fire, and it only cost $2,000 to build the fire break outside of Mokelumne Hill that saved the town from the fire. Right now the challenge is that all of the fire prevention funding gets consumed in firefighting during the year. So, we need to start putting in significant investment."
Morse, from Pollock Pines, was the lone Congressional candidate in attendance Thursday evening, but Regina Bateson had a representative on hand. The other Democrats in the race are Roza Calderon and Robert Lawton. Also speaking at the forum were State Senate Candidate Tom Pratt and a few candidates for Sonora City Council and Tuolumne County Board of Supervisor. State Controller Betty Yee was initially announced as one of the planned speakers, but she was a late scratch for the event.
The General Election is coming up on June 5.