Cottonwood Creek: A Charming Country Couple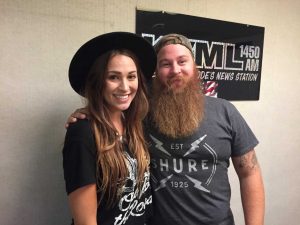 Cottonwood Creek

View Photos
Scott and Maggie Little of the country music group Cottonwood Creek, were Thursday's KVML "Newsmaker of the Day".
Scott Little grew up in Mariposa County and Maggie is from the Central Valley. The married country duo has gained rapid popularity throughout northern and central California.
As a two person band, they take turns with the lead vocals. Maggie plays the banjo, a snare drum and a tambourine. Scott plays acoustic guitar and the harmonica, while his left foot plays a kick drum and his right foot plays a tambourine.
They released their debut CD last year, which was recorded in Nashville.
"We went all out," said Scott. "We decided not to skimp on it, since our music is everything to us. We wanted to give this CD what it deserves."
Cottonwood Creek has written and performed with some notable names in country music including Mark Chestnut, Jamie Johnson, Jake Owen, Love and Theft, Lauren Alaina, and Joe Nichols.
"We have national ambitions" said Maggie, "It's somewhat difficult for us as an independent group without a major record label, but we are touring a lot."
Cottonwood Creek will be performing for free this evening inside of the Willow Creek Lounge at Black Oak Casino Resort. The show begins at 8PM.
The "Newsmaker of the Day" is heard every weekday morning at 6:45, 7:45 and 8:45 on AM 1450 and FM 102.7 KVML.