York Offers Update On Storm Damaged Roads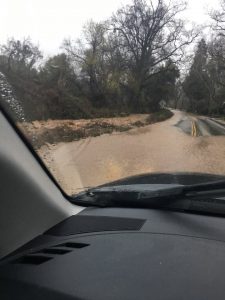 Local road flooding Mar 22 2018 TCSO Photo

View Photos
Sonora, CA — Tuolumne County officials still busily squiring CAL OES and FEMA representatives for tours of local roads damaged from recent "atmospheric river" downpours are sharing the latest on post-storm repairs.
Tuolumne County Deputy Director of Roads Duke York tells Clarke Broadcasting that Priest Coulterville Road, one major local route that was temporarily closed, is now definitely open to through-traffic with some caveats.
"If you are going from Highway 120 at the top of Old Priest Grade you can now go on Priest Coulterville Road all the way to Coulterville," York reports. However, he emphasizes, "There are…five or six locations where the road may be narrowed due to damage and down to a single lane but they have barricades…we recommend that people going down the road to use caution and pay attention to the barricades." York adds that repairs that will restore the roadway to two lanes are expected to take some time and require additional inspections through OES and FEMA.
A big problem area continues to be Ferretti Road due to sinkholes over a culvert on Groveland Creek where critical infrastructure — waterlines and water and sewer mains — is located. The road remains closed in that area and traffic is being detoured through Pine Mountain Lake. York says the county is grateful to the Pine Mountain Lake Association, which is allowing the use of Pine Mountain, Tannahill and Mueller drives as a detour route. He confides that the county does not yet have a date for that repair although cost estimates are coming in between $800,000 and $1 million.
Another storm damage-related closure remains in place on Deer Flat Road between Highway 120 and Wards Ferry Road although York points out that there is an easy detour along Wards Ferry to get to both ends.
Other roads, scattered across the county are also being worked on and in some of the more remote spots, such as Italian Bar, damage reports are still being called in. York commends the road crews and local county staff as well as the interface with OES and FEMA, all collaborating well together to work on the repairs and line up funding. More updates will be shortly forthcoming, he promises with a half-chuckle, "As we get more info…and knock on wood, we don't get hit with another storm. I don't need to hear the words 'atmospheric river' in another weather report."