Celebrity Waiters For Big Dreams Playground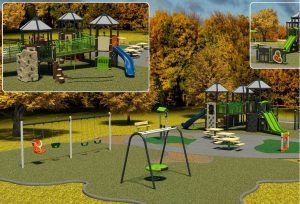 Plans for Big Dreams Park Tuolumne
Tuolumne, CA — To achieve fund-raising goals for the first universally accessible playground in Tuolumne County the Sonora Sunrise Rotary will host a Celebrities Serving Dinner event on Friday, April 13 in the Four Winds Ballroom at The Hotel at Black Oak Casino Resort.
Celebrity waiters include; Sonora Mayor Connie Williams, County Supervisor for District 2 Randy Hanvelt, County Supervisor for District 1 Sherri Brennan, Sheriff Jim Mele Sheriff, Acting Sonora Police Chief Turu Vanderwiel, Assistant County Administrator Tracie Riggs, Supervisor of Stanislaus National Forest Jason Kuilken, Clarke Broadcasting's own Star 92.7 Program Director on KZSQ Mark Grauer and News Director B.J. Hansen. The full list of 20 celebrity waiters is in the events calender here. Tickets are $100 & include $25 of Free Play Courtesy of Black Oak Casino Resort. Tickets can be purchased through Tuesday, April 10th, no tickets will be available at the door.
Plans for the playground have been in the works for five years. Sarah Garcia, Founder/President of the local nonprofit Big Dreams Universally Accessible Parks and Playgrounds reports they collected their approved building plans from the Community Resources Agency earlier this month and are working to schedule the groundbreaking.
The Big Dreams group will provide 100-percent of the funds to replace current park that sits outside the Tuolumne Memorial Hall without requiring county government money. The plans were reviewed by the Historic Preservation Review Commission. Once construction concludes, the county will take over the maintenance. The playground is designed to be low maintenance and utilizing native and drought resistant plants.
Garcia is a local resident whose daughter Ruby, a toddler at the time, was the original inspiration for the project. Many traditional playgrounds with either a bark or sand surface can be nearly impossible for people in wheelchairs or walkers to access. Universally accessible playgrounds also have aspects designed specifically for children with conditions such as blindness or autism.
Garcia noted that several local contractors have volunteered equipment and labor. As detailed here, the project received $50,000 from a private donor through the Sonora Area Foundation, another $40,000 Sonora Area Foundation grant plus the Sonora Area Foundation matched funds donated at the Starry Night Dinner in White for a total raised from that event of $36,000. Another $10,000 was donated from Chicken Ranch Casino and $3,000 from the local Kiwanis Club. Blue Mountain Minerals, based in Columbia, is donating all of the rock and gravel needed for the project, which is valued at over $20,000. Black Oak Casino Resort's Cash Grab charity netted the project another $2,280.
 Click here for all the event information in our community events calendar.
By clicking on the image box you can also view the latest artist rendering of the playground. By clicking on the video box, you learn more of the story behind the project.