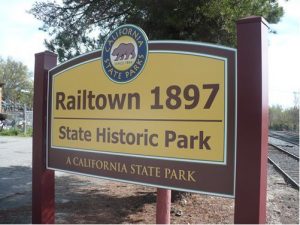 Railtown 1897 Sign

View Photos
Many Spring events are planned for this weekend in the Mother Lode.
Coming up this evening Local herbalists Laureen Campana and Dodie Harte talk at the Tuolumne Senior Center about medicinal native plants of our region, the event is hosted by the local California Native Plant Society Foothills Chapter (CNPS).
The last performance of the musical Mamma Mia is April 8th at Sierra Repertory Theater, Million Dollar Quartet is playing in Columbia at the Fallon House.
Sonora High School's drama students will be performing Into The Woods, Stephen Sondheim's musical about fractured fairy tales. Performances will be in the auditorium this Friday and Saturday and next.
Friday there is a Spring Book Sale at the Sonora Main Library and there is a Job and Career Fair at Columbia College's Oak Pavilion.
Saturday is opening weekend for the excursion train rides at Railtown 1897. The park is offering free admission, tours and train rides behind the 1952 Baldwin Whitcomb No.1265 historic diesel locomotive all weekend long. Departures are at 10:30 a.m., noon, 1:30 p.m. and 3 p.m., for the six-mile, 45-minute round trip. There will also be live entertainment on Saturday and Sunday from 11 a.m. to 2 p.m.
The Geoengineering Awareness Demonstration was cancled due to rain and is planned for Saturday May 19th. There is a Ratto Ranch Wildflower Walk on Table Mountain sponsored by Tuolumne County Land Trust meeting up at 10am.
Saturday is also a Tuolumne County Master Gardeners Open Garden Day
In Jamestown from 11am to 3pm enjoy Humane Society of Tuolumne County's Fun and Furry Friend's Fair. There is also Sonora Cat Rescue's Annual Spring Fashion Show which promises to be "a fun lively luncheon filled with music, fashions, gift and shopping opportunities, raffles, door prizes and laughs and homemade desserts" from Noon to 2pm in Columbia.
Taste of Calaveras 2018 will be held Saturday afternoon at Ironstone in Murphys.
Sunday at Don Pedro High School Gym in La Grange there will be a Community yard sale and barbecue for eight families that victims of the most recent flooding.
Sunday is the Mother Lode Round-Up Cowgirl Luncheon at the Sonora Opera Hall. All the upcoming Round-Up events are listed here.
At the Angels Camp Museum catch the Lecture "From Slavery to the Smithsonian" by Sylvia Roberts.
Sip 'N Shop Vendor Faire will be at the Barn at Hurst Ranch in Jamestown. The free vendor faire is a fundraiser with live music, food other local vendors, to benefit Giving it Back to Kids, "Transforming Lives Through Education, Medical Care, Nutrition, and Love."
At the Black Bart Playhouse participate in Fascinat'n Gershwin, an interactive afternoon of songs and storytelling featuring the music of George Gershwin by Karl Modery, pianist, presented by and benefiting Murphys Old Timers Museum.