Calaveras, Tuolumne, Caltrans Batten Down Before Storm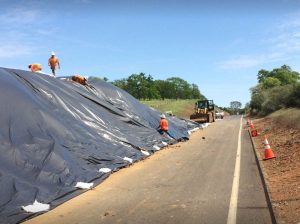 Caltrans buttoning down Hwy 132 repair zone ahead of incoming Pineapple Express rains April 4 2018

View Photos
Sonora, CA — Ahead of the Pineapple Express weather system expected to come roaring into the Mother Lode tomorrow and Saturday, local and state agencies are prepping for more flooding and offering residents resources and supportive tips.
Today, Calaveras County government officials confirm where sand is available for residents, who are asked to take up to ten bags each and bring their own shovels. The locations are as follows…
— Valley Springs: Valley Springs Fitness Center Parking Lot (Highway 26) and near Dr. Duhamel Family Dentistry (313 Vista Del Lago Drive)
— Glencoe: Glencoe Road Yard (16151 Highway 26)
— Arnold: Arnold Road Yard (1191 Line Baugh Road) by the fence clearly marked for the public
— San Andreas: San Andreas Road Yard (891 Mountain Ranch Road)
— Jenny Lind: Jenny Lind Road Yard (11558 Milton Road, Valley Springs)
— Copperopolis: Copperopolis Fire Department (370 Main Street)
While driving during inclement conditions, officials emphasize that drivers are responsible for ensuring they are using proper traction control devices required by law for weather-related roadway conditions.
In Calaveras when reporting a tree down across a road or any other road-related emergency after 5 p.m. or over the weekend, officials say to please call the Sheriff's Office at 209754-6500 and dispatch will directly contact the county road crew to respond promptly.
Tuolumne County, Caltrans Officials Chime In
As we reported here yesterday, Tuolumne County OES released its list of county sandbag locations along with a list of pre-storm and safety tips. Due to the region's high level of tree mortality officials are also warning folks to take extra precautions near potentially impacted trees, especially those near or involved with power lines.
Yesterday, Caltrans and construction contractor crews temporarily switched gears from mountain pass snow clearing to batten down the hatches within work sites where recent storm damage is under repair.
Among these is the Highway 132 cone zone in Mariposa County, where workers covered a huge mound of excavated soil and dirt from a wash out that will be used to rebuild the road's foundation.
On Monday, Caltrans crews initiated their eastward moving spring snow clearing operations on Highway 108 near Strawberry in anticipation of the 78th annual opening at Sonora Pass. You can view images shared by Caltrans District 10 by clicking into the image box slideshow.