Burglary Suspect Assists In His Own Arrest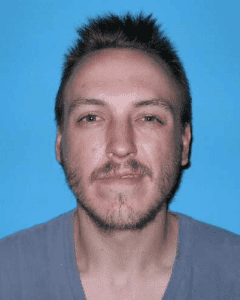 Joshua Tyler Hobbs TCSO Booking Photo

View Photos
Sonora, CA — An Easter Sunday burglar inadvertently led authorities to him by leaving an "easter egg" of sorts; given that it was also April 1st, he also managed to pull an April Fool's Day prank — on himself.
According to Tuolumne County sheriff's officials, 29-year-old Joshua Tyler Hobbs of Sonora entered a garage on Livermore Court in Soulsbyville yesterday afternoon in the noon hour and allegedly stole a box of tools. However, the homeowner who spotted him running from the garage side door, followed and saw Hobbs jumping into the passenger seat of an older white four-door sedan parked nearby in Tracy Court.
A responding deputy following the suspect's escape trail recovered a small ornament belonging to the homeowner on the ground along with a black cellphone. When the homeowner called the number he had for Hobbs, the cellphone began ringing.
Sheriff's officials say their Easter hunt for Hobbs grew a whole lot warmer when, while he was calling the sheriff's dispatch later that day to report the loss of his cellphone somewhere in Soulsbyville, they were able to trace the communication to a home on Allison Way in Sonora.
There, deputies arriving outside the residence found a sedan matching the description of the getaway vehicle and noted that when they contacted Hobbs, he matched the description earlier provided to authorities by the homeowner. Arrested at the scene for burglary, he was booked into the Tuolumne County Jail and assigned a $5,000 bond.