New Details On Damaged Roads And Costs In Tuolumne County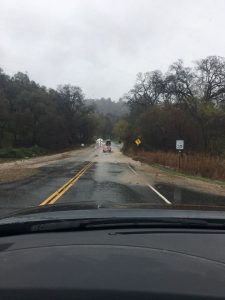 Local road flooding Mar 22

View Photos
Sonora, CA – The Tuolumne County Board of Supervisors will hold a special meeting tomorrow to discuss adopting a resolution to declare a Local State of Emergency due to storm damage, which would trigger the ability to apply for state disaster funds.
While the county's Office of Emergency Services (OES) is still gathering details, OES Coordinator Tracie Riggs shares, "We will have a very high level presentation tomorrow and initial estimates for Tuolumne County are approximately $3.5-$5 million." She adds, "It takes time for our road crews and engineers to go out to each location, and right now we know that Ferretti Road is approximately $800,000." She also details that  City and County of San Francisco (CCSF) has provided an estimate of $40 million in damages to its Mother Lode properties, notably the Moccasin Dam and Reservoir.  
Riggs also notes that Priest Coulterville road is in worse condition and has six different locations that failed. There are further damages on Merrell, Marshes Flat and many more roads.  She stresses that all of this information is preliminary and will take time to finalize. Riggs states, "We are also working with Groveland CSD, various school districts, TUD and CCSF."
The special meeting will be held in the board of supervisors' chambers located at 2 South Green Street in Sonora on the fourth floor. It is open to the public and begins at 2:30 p.m.