Unaware Of Road Washed Out, Motorist Suffers Serious Injuries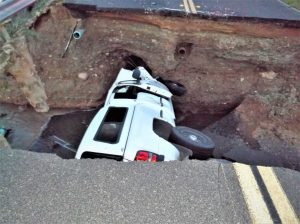 Road in the La Grange area

View Photos
La Grange, CA — The CHP reports a driver in the La Grange area drove by  warning signs and cones, which landed his truck in a muddy mess.
Thursday's pouring rain washed out a section of Ranchitto Drive west of Carrillo Way. Officers had placed signage signaling that a 30 foot section of the roadway had broken away leaving a wide trench, as can be seen in the picture in the image box. The CHP details that Friday morning just before 6 a.m., 56-year-old Douglas W. Sandlin of La Grange, driving about 50 mph in a 1999 Dodge Ram 2500 truck, went through some cones and failed to notice the washed out road ahead. The pickup went airborne and smashed into the dirt wall on the opposite side of the trench and flipped onto its left side.
Although suffering major injuries, Sandlin was able to free himself from the truck and call 911. The CHP reports that alcohol or drugs are not a factor in the wreck. Due to flooding and roadway damage throughout the county, the CHP warns motorists to pay attention to barricades and postings on roadways, slow down and allow for extra time to get to a destination.
For details on road conditions anytime go to the myMotherLode.com's homepage and click on traffic.