Tuolumne, Calaveras Share Flood Control Resource Info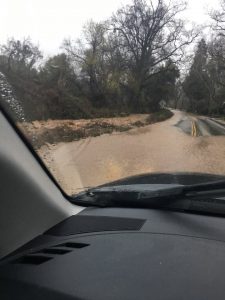 Local road flooding Mar 22 2018 TCSO Photo

View Photos
Sonora, CA — Due to continuing storms with heavy flood impacts both local offices of emergency services are providing updated resource information for residents working to protect their properties from floodwater damage.
According to Tuolumne County Office of Emergency Services sand is available at the following locations:
Tuolumne City — Tuolumne Road Yard at 18870 Birch Street and at Tuolumne City Fire Department
Jamestown — Jamestown Road Yard at 18188 Seventh Avenue
Big Oak Flat/Groveland — Big Oak Flat/Groveland Road Yard at 11240 Wards Ferry Road
Columbia — Columbia Airport at 10723 Airport Road
Note: Please bring your own shovel and bags to fill.
Due to the high level of tree mortality, Tuolumne County OES officials remind folks during the storms to be extremely aware of their surroundings and on the lookout for falling limbs, woody debris and falling trees. Some trees have power and/or communication lines attached to them and should not be approached or touched. Please call PG&E immediately to report downed lines at 800 743-5002 and stay away from the area.
Calaveras County Office of Emergency Services confirm current sand bag locations as follows:
Valley Springs — Valley Springs Fitness Center Parking Lot at Highway 26 and near Dr. Duhamel Family Dentistry, 313 Vista Del Lago Drive
Glencoe — Glencoe Road Yard at 16151 Highway 26
Arnold — Arnold Road Yard, 1191 Line Baugh Road (by the fence clearly marked for the public)
San Andreas — San Andreas Road Yard, 891 Mountain Ranch Road
Jenny Lind — Jenny Lind Road Yard, 11558 Milton Road, Valley Springs
Those that need sandbags will need to bring a shovel to fill the sandbags as the sandbag locations are not staffed.
Officials add that public works is running 12-hour shifts/24 hours to handle potential flooding issues along the county roads, through the duration of the storms.