Update: Flooding Impacting Some Tuolumne County Schools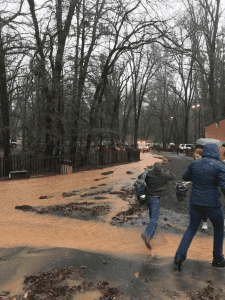 Gold Rush Charter School Flooding Mar 22 2018

View Photos
Update at 3:09pm: Tenaya Elementary and Tioga High schools are keeping kids at school for the time being, according to superintendent Dave Urquhart, because the roads on both sides of Groveland are currently closed.
Update at 1:44pm: Parents of Gold Rush Charter School students are now being asked to pick up their children at a makeshift evacuation center in Sonora as the flooded campus has been closed due to hazardous conditions. The center is located at Willow Springs Clubhouse at 16331 Hidden Valley Road.
School official Ron Hamilton says the campus is off limits to the public for the rest of the day. Recounting more details of what happened at the school, which is located near a drainage system that serves the surrounding community, Hamilton says plans to evacuate came together quickly once it was evident that the system was backing up and ready to breach the banks due to the sudden onslaught of extreme storm water overflow.
Continuing, Hamilton shares, "We made the decision within seconds to evacuate, and so we had to move quickly…with the help of emergency personnel and our staff…literally had to carry some students over water areas because it was deep and running quickly, got students to higher ground and…transportation going." Hamilton adds that all parties involved acted amazingly well. To view photos, click into the image box slide show.
Update at 12:15pm: Foothill Leadership Academy is closed for the rest of today, and tomorrow, due to flooding in many of the classrooms that will require some time to clean up, according to school officials.
Original story posted at 11:50am: Sonora, CA — Gold Rush Charter School is closed for the rest of the day due to flooding through the middle of the school's campus.
School official Ron Hamilton say parents are asked to pick up students as soon as possible. The CHP reports that there are multiple traffic hazards on Phoenix Lake Road including roadway flooding in the 20000 block and a power line across the roadway near Bellview Creek Road, so be prepared for traffic delays. Law enforcement officials are responding to assist. The Tuolumne County Sheriff's Office says  parents coming from Longeway and Kewin Mill above the school should take upper Phoenix Lake Road to Creekside. Otherwise use Crystal Falls Drive to Creekside.