Sonora Felon Arrested Again On Weapons Charges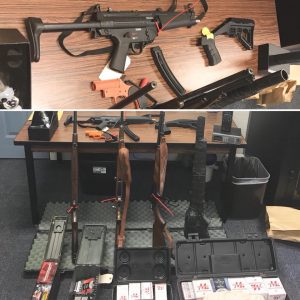 Klidies Arrest March 14 2018, Evidence Photo

View Photos
Sonora, CA – A convicted felon with a history of numerous firearms possession is back in Tuolumne County Jail without bail.
Tuolumne County sheriff's officials report that, following a probation search yesterday afternoon of his Sonora residence that uncovered a cache of weapons and other items, deputies arrested 42-year-old Richard Klidies.
Now, according to the custody records, he was on hold for felony violations of his probation terms by possessing a firearm and carrying a loaded firearm while in public. Fresh felony charges initially added included being in possession of an assault weapon along with three misdemeanors for possession of drug paraphernalia, being disorderly under the influence of alcohol and wrongful interception and divulgence of a public safety radio communication.
Investigators who initially reported from the field that they had confiscated an authentic MP-5 submachine gun during their search, later determined the weapon turned out to be a replica that would be legal for Klidies to own or possess if he were not a felon. However, they also say now there is an additional twist to the case because the firearm turned out to be stolen.