Big Oak Flat-Groveland School Trustees Tap New Member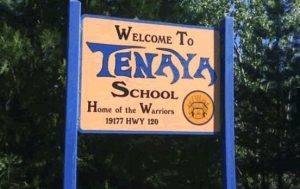 Tenaya Elementary School

View Photos
Groveland, CA – The Big Oak Flat-Groveland Unified School District Board filled a recent vacancy due to a resignation.
District officials report that the trustees made a provisional appointment yesterday, selecting Groveland resident Dawna Dougherty. She replaces Paul Spring, who gave formal notice last month, explaining he had moved out of district boundaries, as reported here. Dougherty's appointment is effective within 30 days, barring challenge via a special election petition.
As Spring's two-year term was scheduled to run through December of 2020, the seat will be on the ballot this coming November; so Dougherty's appointment will last a little over nine months although she has the option of running for reelection on the November ballot.
The special election petition process requires sponsorship by one or more district residents who are registered voters, who must then gather sufficient signatures based on the number of voters who participated in the last regular election for governing members in the district. According to the district, if more than 2,000 voted, one-and-a-half percent or 25 voters, whichever is greater, would have to sign; If less than 2,000 did then five percent of the turnout number would be required.