STF: 'Strange Winter' Causing Abnormal OSV Trail Conditions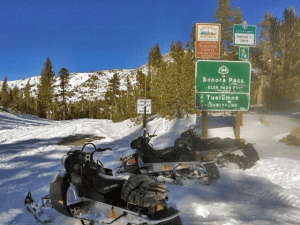 Snowmobiling by Hwy 108 in Summit Ranger District

View Photos
Sonora, CA — Those with snowmobiles heading up towards Sno-park or folks planning snow play near Pinecrest Lake these days take heed, say U.S. Forest Service officials, who say the Summit Ranger District is still dealing with the aftermath of recent storms.
While about 18 miles of over-snow vehicle (OSV) winter trails that run between Sno-park and Kennedy Meadows Road off Highway 108 are normally groomed two to three times a week during the winter, as Stanislaus National Forest spokesperson Diana Fredlund explains, there had been so little snow so far this season that crews had no snow to groom — until a one-two punch of storms dumped over four-and-a-half feet of the white stuff over a few days.
"After the big snows last week, all the OSVs came up and we did not have the chance to groom it beforehand…so the snow was not packed down or ready to go. So there are lots of moguls…bumps — and even experienced OSVers are getting stuck if they are leaving the trail — so we just want to make sure that if folks are going to go up and have a good time they need to understand that [the current state of conditions] is kind of challenging," she warns.
Although forest officials are hoping for an opportunity to improve the trails, Fredlund emphasizes, "We don't necessarily know if we are going to be able to do any grooming…it all depends…if there is only a light dusting, there is nothing we can really do at that point because the ruts and moguls are pretty well set in."
Keep The Ride On Trail
Continuing her update, she stresses, "It has been such a strange winter that we really want to let snowmobilers know there could be some challenging decisions to stay safe and keep your friends safe while up there…so they should keep these things in mind when they make their decisions to come up and play in the snow. Use extra caution on the trails." Too, she warns, "Be careful about leaving the trail. We are seeing very well trained and experienced snowmobilers getting stuck off the trails in the deep snow."
Fredlund also says that folks planning to enjoy cross-country skiing, snowshoeing and snow play at Pinecrest Lake are likely to encounter very challenging parking conditions until parking areas can be cleared. Getting this done, she confides, is currently a challenge — not only due to the deep snow there — but also because a contractor doing winter construction work has heavy equipment staged in some of areas that are still hidden underneath that heavy white blanket.
So she recommends those hankering to enjoy the area arrive a little earlier, adding. "Be prepared for limited parking conditions, practice patience and be a good neighbor to others coming up to do the same." For the latest conditions, Fredlund advises calling the Summit Ranger District front desk weekdays at 209 965-3434.