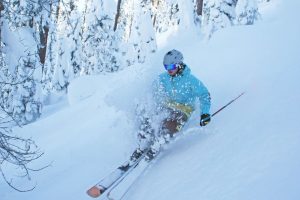 Dodge Ridge ski season on the slopes.

View Photos
Dodge Ridge will re-open this Friday and Tuolumne County Transit is ready to roll with round-trip Ski Bus rides.
Tyler Summersett, Transportation Planner with the Tuolumne County Transportation Transit Agency, was Wednesday's KVML "Newmaker of the Day".
The Dodge Ridge Ski Bus offers round-trip rides every Saturday and Sunday morning from select Tuolumne County locations for just $10 per person. There are also family discounts. The bus remains at the ski area until 4:00 pm.
"Regardless of where you catch the bus, whether it is in Sonora or in Twain Harte, the price is the same." said Summersett. "There is plenty of room for snow skis, snow boards and equipment. And this is a great way to relax without having to worry about icy roads or other traffic hazards".
Summersett said there is plenty of room for equipment and television monitors on-board featuring skiing and snow boarding footage. He recommends that by skiers leaving the driving to professionals, it saves gas and helps skiers relax as they look at the surrounding beauty on the way to and from the ski area.
The bus has been serving the ski area for almost ten years. This year, a second and even a third bus can easily be added on some weekends to meet the advanced reservation demand.
For more information on the Dodge Ridge ski bus services (including pick-up locations), log on to http://www.tuolumnecountytransit.com/skibus
The "Newsmaker of the Day" is heard every weekday morning at 6:45, 7:45 and 8:45a on AM 1450 and FM 102.7 KVML.