Kewin Mill Road Repairs Completed With No Thanks To Mother Nature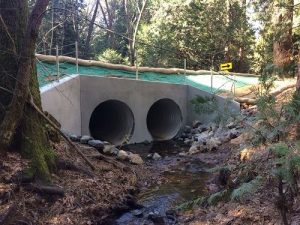 Kewin Mill Road Repairs

View Photos
Cedar Ridge, CA — Initially rainfall delayed Tuolumne County's "Kewin Mill Road Emergency Storm Damage Repair Project" but the recent warm temps helped push it along to completion.
Winter storms last year caused damage to a culvert on Kewin Mill Road at Five Mile Creek forcing motorists to have to rely on a temporary bridge that was installed in January, as reported here.  Repairs began this past November but were abruptly halted by the county the last weekend of January 2018 with just about 10 percent of the work left to be finished thanks to more bad weather, detailed here.
Work picked up again the first week of February and today the Tuolumne County Community Resources Agency (CRA) Engineering Division announced that the project is complete. The work consisted of crews replacing the failed culvert crossing with a new double culvert. Crews also tackled the construction of concrete headwalls and rock lining along the creek bank to prevent erosion and paving the roadway.