Repairs To Storm Ravaged Kewin Mill Road To Begin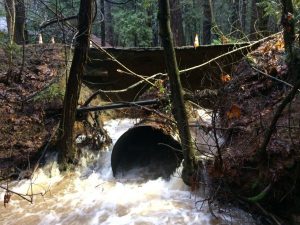 Kewin Mill Road Damage

View Photos
Cedar Ridge – A contract has been awarded to a local construction company allowing crews to start fixing the storm damaged Kewin Mill Road next month.
At its Tuesday meeting, the Tuolumne County Board of Supervisors awarded Sierra Mountain Construction, Inc. out of Tuolumne the contract for the "Kewin Mill Road Emergency Storm Damage Repair" project. As reported here, winter storms caused damage to a culvert forcing a temporary bridge to be installed in January, which allowed the roadway to reopen the following month. This latest work will include reconstructing the Kewin Mill Road culvert at Five Mile Creek forcing road closures.
While staff noted that they had been in touch with neighbors in the immediate area, meeting attendee, Mike Ayala, who is the Former Tuolumne County Chamber of Commerce Executive Director and CHP Sonora Area Commander raised concern about notifying all area residents, "Cedar Ridge was a large concern of ours during fires, floods and washouts as for many of those communities it's one-way in and out. There are a lot of people up there that are very concerned about that bridge right now. So, I would ask for a public outreach, some kind of a meeting shortly before or at least that first week of construction at the fire station out there where they can see some maps and asks questions."
A suggestion District 2 Supervisor Randy Hanvelt liked while citing his dissatisfaction with the Federal Emergency Management Agency (FEMA), "In my opinion FEMA let us down on this because we've been beating on FEMA for a very long time, I want to say six months, to get this thing done. We need to continue to put pressure on our federal and support agencies so we can do this repair in a timely manner."
Supervisors approved holding an informational meeting at 6 p.m. Wednesday, November 29th, at the Tuolumne County Fire Department Station 58 at 24190 Kewin Mill Road. Construction on the $1,215,837 project, which will receive 75 percent reimbursement from FEMA and 25 percent from the state, is slated to begin December 4th.  Completion is expected in two months, weather permitting.