Temporary Bridge Being Installed On Kewin Mill Road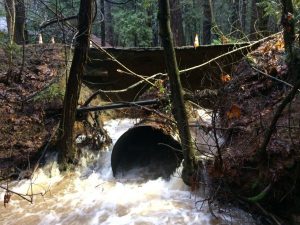 Kewin Mill Road Damage

View Photos
Sonora, CA — Tuolumne County has hired with an outside contractor to install a temporary bridge along Kewin Mill Road.
The road and some adjacent infrastructure was extensively damaged last week and the temporary bridge will span 5 Mile Creek. Installation is beginning today and it will take two days to complete.
New Community Resources Agency Director David Gonzalves told the Tuolumne County Board of Supervisors this morning, "There will be some intermittent interruptions to the one lane to the residences there. I understand that is the only real way in and out of there. That is why we have taken priority to authorize the emergency contract and put in the bridge."
20-minute traffic delays are anticipated on Kewin Mill Road during the construction, today and tomorrow. School buses will be accommodated.