Invasive Rodent Sighting In Tuolumne County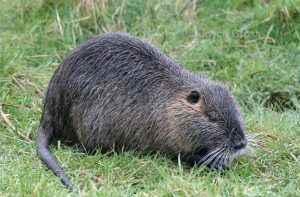 Nutria

View Photos
Sonora, CA – Tuolumne County has been added to the list of three other counties where an animal called a Nutria has been sighted – it is an invasive rodent that eats so much aquatic vegetation it threatens wetlands and marshes.
California Department of Fish and Wildlife (CDFW) spokesperson Peter Tira confirmed to Clarke Broadcasting that the rodent was spotted in the county, acknowledging, "There was a positive nutria sighting just east of Don Pedro Reservoir. Originally, we reported more than 20 nutria confirmed sightings in Merced, Fresno and Stanislaus counties. Unfortunately, now we can expand that to Tuolumne County." Tira is not surprised that the rodents have made it to the county since they use the waterways to move and disperse but he indicates that they haven't been in the state for about 50 years and are not native to the area as they come from South America. (For a CDFW Nutria Identification guide, click here CDWF Nutria Identification guide )
"Nutrias are often mistaken for beaver or muskrats, but they are smaller than a beaver but larger than a muskrat, which are native to California. The rodents can weigh up to 20 pounds and are 3 ft. in length including their tails," details Tira.  He continues, "They're incredibly destructive. They chew up wetlands and convert them to open water and degrade water quality. They're an agricultural pest and a threat to infrastructure. Like other rodents they present problems with regard to spreading diseases to pets, livestock and people." The animals are very problematic when they get a hold on a landscape, according to Tira who expounds, "We don't have to imagine the problem just look to Louisiana, Washington and Maryland where they have wrestled with the problem for years, while spending millions of federal and state tax dollars to try to eradicate these pests."
A female can give birth to more than 200 offspring within a year of reaching reproductive maturity. Tira indicates that the department is developing an eradication plan in cooperation with federal, state and local counties. He notes, "Tuolumne County is in the loop and being very cooperative in this." Believing early intervention is the key to eradicating the rodent, the agency is asking for the public's help in looking for and reporting nutria sightings in order to determine the extent of the infestation. "We're not doing a wide scale trapping effort or anything at the moment. We are trying to find out where the population is and get a handle on its size. We would appreciate any reports of sightings. If one turns up in a trap, we ask that you not let it go and give us a call so we can confirm if it's a nutria." However, Tira admits that the final plan will include euthanizing the animals.
To report a sighting to the CSFW, click here or e-mail to invasives@wildlife.ca.gov, or call (866) 440-9530. Tira suggests taking a picture of the rodent to help with identification. Regarding any sightings in Calaveras County, he indicates that, at this time, there have been none reported.